Creating and utilizing working life contacts
LEARNING OUTCOMES: After this module, a university teacher
Can describe how cooperation with working life benefits learning
Is able to create the connections with working life and knows different kind of means to gather and contact partners for cooperation
Is able to name and ideate different ways for co-operation with working life
Is able to imagine the responsibilities of different parties (university, teacher, employer, student)
Knows the basics of formulating the agreements in students' projects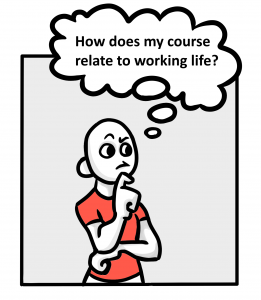 Creating and utilizing working life contacts plays an important role in a university degree – for example co-operation with the world of work during a course, or an internship period can bridge theoretical knowledge with practical skills that are needed in working life. Helping students to gain good working life skills benefit everyone:  students, the university, and the future employer. Click the questions in the figure below, and find the answers.
Read more
Pajarre, E., Hietaniemi, R., Mäkelä, A., Pajari, S., Palosaari-Aubry, P., Saravesi, K., Tompuri, H. Virkki-Hatakka, T. (2016). Work placement periods in university studies: recommendations on the planning, implementation and reporting of internships and other work placement periods – for students, universities and employers, University of Oulu. Available at: http://urn.fi/urn:isbn:9789526215150
Vihervaara, T. (2015). Yritysyhteistyö opetuksessa; Käytännön käsikirja yliopistoille ja yrityksille, Aalto-yliopisto (in Finnish)
Contact your own University for information regarding guided studies based on the materials.
THE MODULE CREATED BY UNIPS
Content: Paula Vaskuri, University of Oulu; Virve Pekkarinen, Aalto University; Eila Pajarre, Tampere University of Technology; Sara Selänne, Tampere University of Technology  & Terhi Virkki-Hatakka, Lappeenranta University of Technology