LEARNING OUTCOMES: Taking this module gives you competencies to:
Become to know oneself as a fasilitator of group learning  and to learn to self-reflection as a fasilitator
See and understand possibilities of small groups and peer groups in university teaching
Apply the understanding of group learning in own teaching
Renew own pedagogical tools
Critically reflect own position and authority in small group and peer group sitations
Content: Social dimensions of small and peer groups; Group learning in experiential learning theories; Starting of small or peer group learning; Creating safe atmosphere; Teacher as a facilitator of group learning; Self-reflection as a facilitator
Welcome to study the module! In order to get started with the module first study the video content. Then broaden your perspective on small group pedagogy via further reading. If possible enrich the learning process by discussion.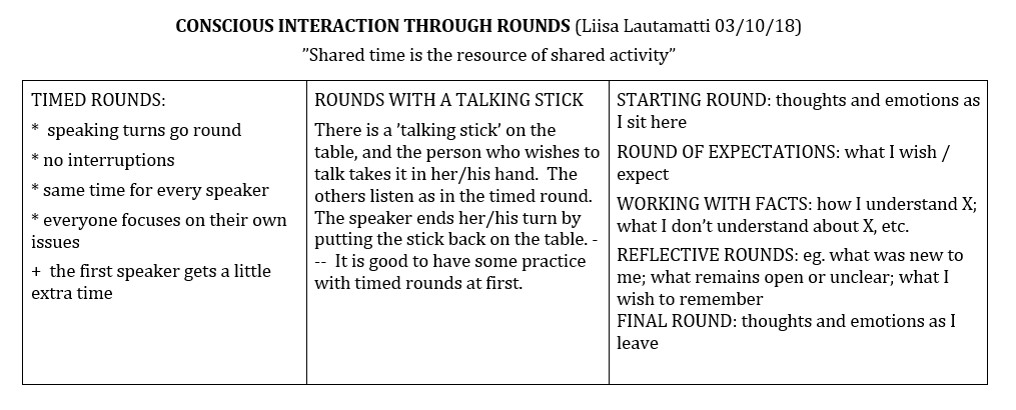 Contact your own University for information regarding guided studies based on the materials.
ASSIGNMENT
Draw your lifeline on a paper where you describe your significant experiences as a pedagog – personal high and low points of your life.
What is your personal "bundle of experience" as a university teacher / learner?
What are your own experiences of learning in groups – did you experience safety or not?
What kind of status do knowledge and knowing have for you personally?
THE MODULE CREATED BY UNIPS 
Content specialists: Anita Malinen, University of Jyväskylä, Juha Lahti, University of Jyväskylä. Video and audio production: Kari Toiviainen, University of Jyväskylä, Ville Vester, University of Jyväskylä. The module is piloted for the first time in January 2019.

This work is licensed under a Creative Commons Attribution-ShareAlike 4.0 International License.